If you binge eat, emotionally eat or canít lose weight.
Shocking Free Report:
"THE 7 MISTAKES BINGE
EATERS MAKE"
read more ....
My Bulimia Nervosa Rotted My Teeth
Hi I'm Debbie Williams, the owner of www.stopbulimia.co.uk website – you probably know that constantly throwing up your food causes damage to your teeth, but you may not realise the process of degeneration can continue even after stopping bulimia, as it did for me. You can see in my first photo slight greying of the one tooth as I smile the other side was the same and loads of back teeth had rotted and fell out.

Cost prohibits many people in the UK having cosmetic dentistry also fear of who to trust with the health of your teeth.So I'm writing this page after discovering of a wonderful dentist in Turkey – Olsum and you can see the results after her work is the second photograph.

My Bulimia caused my teeth to rot and continue to fall out years after I'd stopped purging

Over the years we've made friends with people in Turkey and the first time I went to see Olsum I had a bridge put in plus a wisdom tooth removed for the sum of about £350. This built my confidence up as I was there with my friend Jan – who also was having all her teeth done – her hubby had his replaced 12 months earlier and they looked wonderful.
So for the next year I saved to go back – to have all my top teeth done and you can see the result – the front 6 cost £265ish each as they were the latest state of the art Hollywood teeth and all the back one's cost approx £165 each including all bridges to fill the many gaps. So all in all with some discount (I could have chosen the option of all at £165 per tooth) I had them all for under £2000.

I was quoted £2000-£3000 just for a bridge to fill the gaps after a rotten tooth was removed by an English dentist, whilst on my maternity leave, which in the UK treatment is supposed to be free but they said "Oh no – you still have to pay for that, there is a lot of work to be done – it is expensive you know."

My Rotten Teeth replaced by Turkish Dentist

What I liked about Ozden, the Turkish dentist, her English is excellent, the dental practice is state of the art – also she gives you one tiny injection – lets it go numb in that area of the mouth – then more tiny ones injected into the numbness ½ inch along – so after the first little prick – you feel nothing- great if you have a needle phobia!!!

Before

After
She also is a perfectionist and wants the best for you, which is what you want in your dentist – she has pride in her job.
If you have been bulimic for years and your teeth have been damaged and the price at home is preventing you from treatment – consider this option – you can contact her on

www.turkeydentist.com
If you need somewhere to stay Jan rents her place or Wendy originally from Dublin owns Ponz village –right by Ladies beech has places – She can pick u up from the airport – arrange holiday transfers – you can fly to Ismir – 45min transfer or Bodrum 1 ½ hrs to Kudadasi.
Wendy also has had her teeth done.
If you make a holiday of it – Kusadasi has some great places to visit – it houses the home of the Virgin Mary – the temple of Artimas (one of the 7 wonders of the ancient world) and Ephasis– which is an ancient roman city with 10 metres wide marble streets that used to be a port but now the sea has moved so it is now 7k in land – more info
kusadasi.biz
Plus where Jan/Wendy's places are – right by ladies beach – its the best sandy beach in Kusadasi with awards for it's cleanliness.
One tip if you do go – get the work done during the day – as everyone wants to go after the sun goes down and she sometimes books everyone in at 7pm and waiting 2hrs to see her then is not uncommon – so ask when it is not busy so you can be seen straight away.
Overcome Your Bulimia now
So you wont have to go through anything like this, please download my free report now. Check out my CDs and downloads they start from only £15 and come with a full 60 day no quibble money back guarantee. See also my blog for tips and help you can ask me questions there as well.
Please make sure you have seen your medical practitioner to exclude any treatable causes first as what I teach worked for me and may not be the right help for you.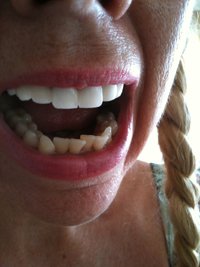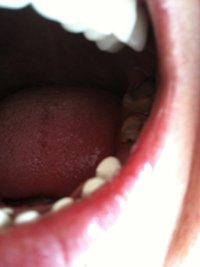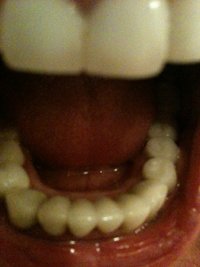 'Just had my bottom teeth done (Aug 2010) at a cost of 1800 euros see before and after, The dentist said my teeth were like cheese to drill! As you can see from the ''during treatment"
Before
After