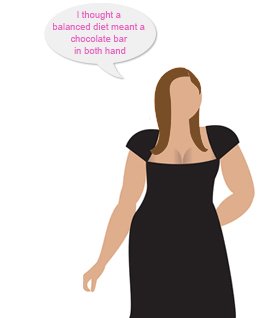 Milk chocolate is the weakness of many people, especially those who want to lose weight. It's made mainly of 3 things, the first ingredient is sugar, the second is milk, the third is the cocoa bean.
Milk chocolate is called a "comfort food" for good reason and is more than just psychologically addictive. Regular users of milk chocolate become addicts to a naturally occurring milk opiate that is similar to morphine.
This is part of Mother Nature's infinitely wonderous plan, to make nursing more pleasurable. Caso-morphine is addictive. That's why weaning is so difficult for any species of mammal, the attraction to that naturally occurring milk opiate.
White sugar is highly refined and is not a food at all, it's a chemical. It's very acidic in the body and to compensate the body has to create more fat cells to keep the acid away from your organs. It also disrupts your digestion, rots your teeth and is very addictive.
Sugar molecules attach themselves to collagen causing the fibres to become rigid, stiff and inflexible which increase wrinkles and aging of the skin.
And by replacing sugar with natural foods with time your tastes will change.

Testimonials from buyers who have control over eating chocolate
"I bought your Chocolate addiction CD about 3 weeks ago and it is AMAZING! I have been eating chocolate since I was a small child and I hit 25 and I was eating more and more every day. My boyfriend hated it, I would rather eat a chocolate bar then my dinner, I would get snappy if I hadn't had any for a few hours. The day I bought your CD, I hadn't had chocolate for 2 days and it was all I could think about, so on my lunch break i went to the shop and bought 2 chocolate bars and consumed them both in no more than 3 minutes. I was so disappointed in myself that I didn't have the willpower to not give into my cravings. So back in work I googled how to stop chocolate addiction and I came across the website and I bought it. Like I said, it has been 3 weeks now and I have not touched any chocolate, I even got my boyfriend to eat the chocolate off of the top of my ice cream the other day. I feel so much happier and a lot more in control of not only chocolate cravings but other cravings too.Thank you for your CD it was the best thing I have ever bought and I am now looking into purchasing your stop worrying one."

Forever grateful,
Holly
I have not touched any chocolate at all even the thought of it I think 'No thank you' I've only listened to the download once and it's worked Marie
I can't believe it its been 3 weeks now and I've just not wanted any at all even when I was due on my period I didnt have any I'm amazed WOW You are amazing Coleen
After one meal (a lot smaller than normal) I wanted some chocolate & thought 'I'll have it later' & then completely forgot about it!

Claire
I had been eating a bar, or more, of chocolate almost every day, eating it as fast as possible as I felt i shouldn't be eating it, since listening to Debbie's stop binge eating CD I realized I could have chocolate - but I would have 1 bar a week - cut it into 7 pieces & have just 1 piece a day, cutting that piece up into 4 pieces!

Sal B
Debbie's recording will plant suggestions to desire more healthier foods and enjoy them.

This multi track recording will stop you eating chocolate with a full money back guarantee. For the best results before you do the exercise on track 2 the first time you listen play track 3 – the information you hear will make the effect more powerful.
Click here for more information or Buy Now